We can't get this product anymore
We are no longer able to source this product from our supplier.
Coffee Grind Bin - The Knock Box™ Mini
The Knock Box™ Mini is the genuine Breville coffee grind bin, designed for convenient disposal of used coffee grinds. Helps you knock out the most tightly packed coffee puck.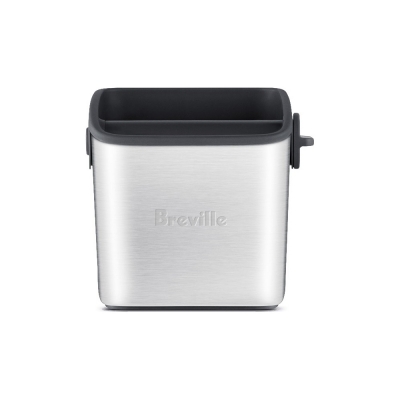 Product information
Genuine Breville coffee grind bin
Protects your group handle from damage
Strike the portafilter against the knock bar for quick, easy and mess-free disposal of the coffee puck. The durable knock bar is designed for aggressive use and is removable for easy cleaning of the inner vessel. Anti-slip rubber grip for increased stability on the countertop.
Includes:
Anti-slip rubber grip
Stainless steel canister
Removable knock bar
Dimensions:
Width 100mm
Depth 100mm
Height 120mm
Works with any brand of espresso coffee machine.
Part number:

BES001BSS

Stock code:

10130390