This product has been superseded
Replaced by
Espresso Machine Natural Descale Liquid NOKALK
NOKALK is a great way to maintain your machine with minimal impact on the environment as it is Biodegradable unlike other descale solutions.
$22.95$6.95 shipping within NZ (or pick up in Auckland for free)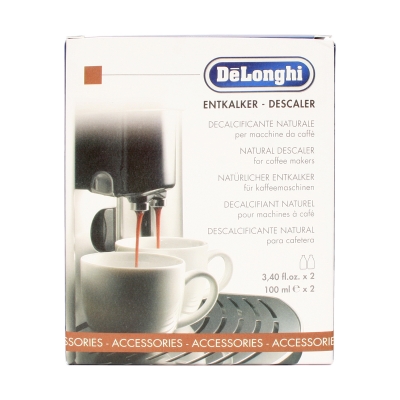 Product information
NOKALK is the natural descale liquid for all Delonghi automatic coffee machines including the PrimaDonna, Compact and Magnifica.
Fully Bio-Degradable
2 x 100ml Capsules
Each capsule is measured for 1 descale operation
Preserves the taste of the coffee
Extends the life of the machine
We recommend that your espresso machine is descaled every 4-6 months depending on the frequency of use.
Scale is the build up of minerals that naturally occur overtime in small appliances that heat water. Delonghi natural descale liquid NOKALK can be used to descale multiple brands of automatic and manual espresso machines as well jugs and kettles.
Part number:

NOKALK

Stock code:

10160016
Works with